Caring Science Measurement Tools & Research
Watson Caring Science Institute has created 7 measurement tools, Watson Caritas Measures, which can be used to assess perspectives of caring practices regarding care for: Patient, Leader, Preceptor, Co-worker, Self, Leader-Self, and Organization.
These tools are reliable and valid instruments used in hospitals and systems throughout the United States and other parts of the world.
The Watson Caritas Measures are available for download for $30 each or all 7 for $200.
Currently enrolled in CCEP?
If you are currently enrolled in CCEP, and would like to use the Watson Caritas Patient Score® for your final project, please contact info@watsoncaringscience.org to request a copy.
Background & Rationale
The need for theory guided practice and greater transparency regarding quality outcomes has provided a backdrop for nurse leaders throughout the world to measure the effectiveness of their professional practice environments. As a result, there is a growing need for theoretically sound empirical data that can be used to evaluate performance of key activities against other similar organizations. The Watson Caritas Patient Score® (WCPS) is being used in multi-site clinical research in systems using Dr. Jean Watson's
Theory of Human Caring and Caring Science
as a theoretical foundation for advancing professional practice by measuring clinical indicators of caring in relation to patient outcomes. These foci are considered important dimensions of professional theory-guided practice and play an important role in advancing Caring Science research.
Purpose & Objectives
Apply the WCPS five-item instrument in a group of acute care institutions using a common "Caring Science" professional practice model
Build an accurate and reliable national comparative database on caring and related outcome variables
Use the data on caring for ongoing performance improvement and clinical investigations
Improve the validity and reliability of the WCPS
Build a user-generated reporting tool and evaluate its utility to the end user
Appraise the value of the database and
Evaluate relationships among patient perceptions of a caring environment and patient safety and satisfaction indicators.
Using Press Ganey or Qualtrics Now?
If your hospital currently uses the Press Ganey or Qualtrics survey, you can request to add these tools.
Watson Caritas Patient Score® Preview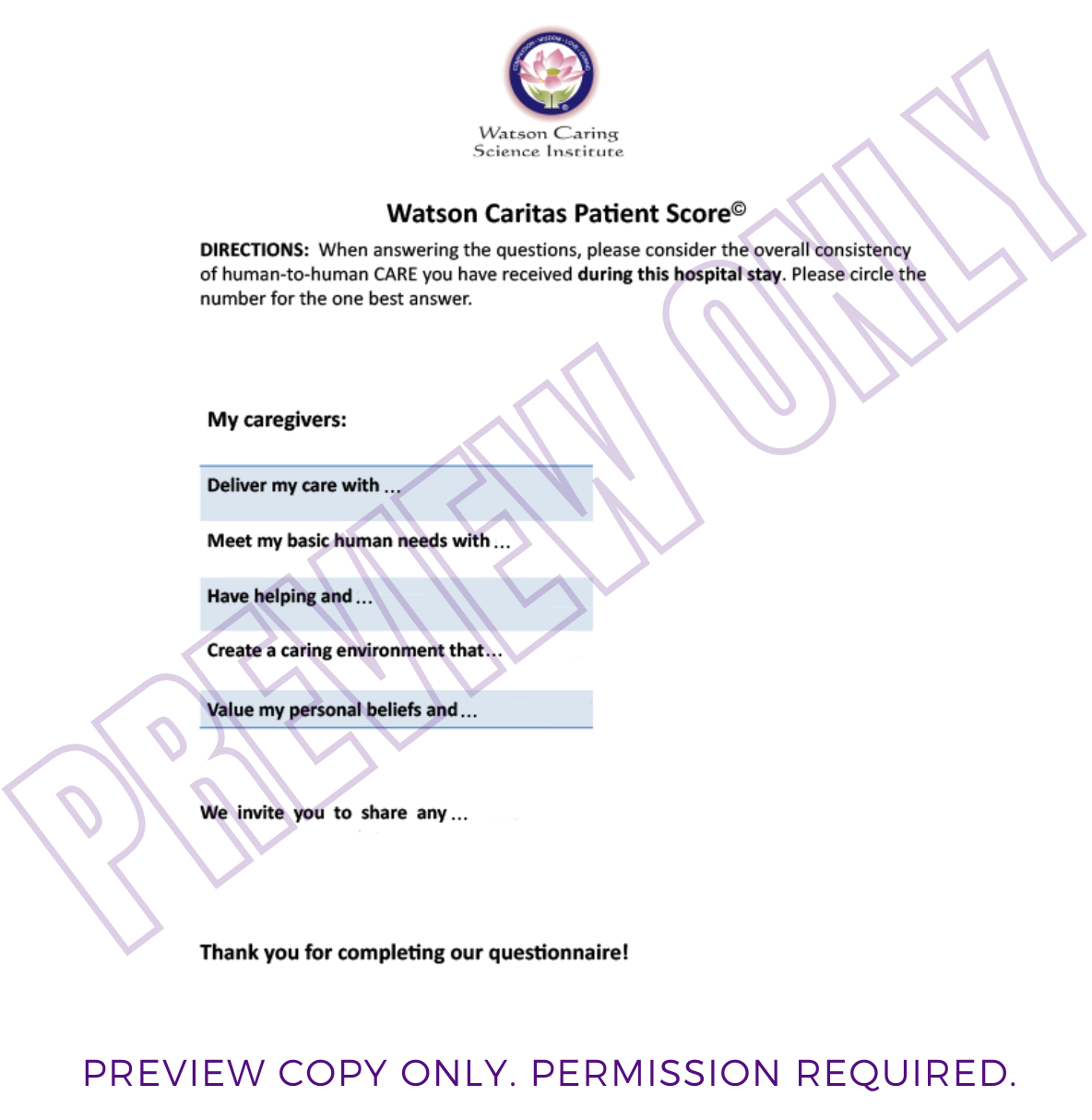 Caring Science Research — Criteria, Evidence, and Measurement
Evaluation of Authentic Human Caring Professional Practices
---
---
Patient Score Translations Available
Arabic
French
Hebrew
Italian
Korean
Spanish
---
Spanish Translations Available
Patient Score
Leader Score
Co-Worker Score
Self-Rating Score
---